Great Russian Sexual REVOLUTION (Tatiana Tayskaya and Sergey Volk / SPComany) [2000, Russian, Comedy, All sex, Anal, Oral, DP, Group, DVDRip]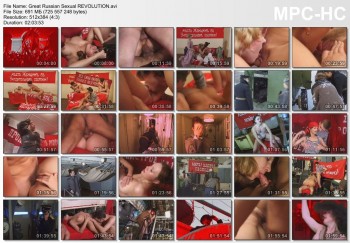 Year of release:
2000
Director:
Tatiana Tayskaya, Sergey Volk
In roles:
Nikita Denikin, Katya Ivanova, Marina Kunitsova, Kirill Telegin, Vasya Ivanov, Olga Sizov, Xenia Romanova, Vsevolod Bobrov, Peter Zaitsev, Leonid Gudkov, Marina Kuvaldina.
Description:
It was in October 1917 ... The unrelenting struggle of the insurgent people with vile by the bourgeoisie entered a decisive phase. Under the guidance of the infallible leader, brave kommisarsha with fellow sailor in the class enemies recaptures all the new frontiers. Fate throws under the wheels of the revolutionary armored car lady Masha and her governess, after which they miraculously find themselves in the middle of the Great October Revolution sex.
File:
Great Russian Sexual REVOLUTION.avi
Size:
725557248 bytes (691,95 MB)
Duration:
02:03:53, avg.bitrate: 781 kb/s
Format:
AVI
Audio:
mp3, 44100 Hz, mono, 64 kb/s
Video:
msmpeg4, yuv420p, 512x384, 25,00 fps(r)
Download file - 691.9 MB